Thanks for inviting me on to your fascinating blog. I think getting people to share ten most influential books is a wonderful idea, though very tricky!
I Know Why the Caged Bird Sings by Maya Angelou
An autobiography of Maya Angelou's first sixteen years growing up in segregated America during 1930s and 1940s. Such a moving, yet inspiring novel. The writing is almost like poetry in places.
Five on a Treasure Island by Enid Blyton
I read nearly all of the Famous Five books growing up. I suppose that they gave me a love of escapism, adventure and of course, reading.
Our Mutual Friend by Charles Dickens
I read this at university as part of a social history unit. It's about corruption, the love of money and as so many of Dickens' work – the eventual triumph of the underdog. Wonderful.
Watchers by Dean Koontz
This was the first book of his that I read and I have read a good two thirds in total. He is a master storyteller and each novel is beautifully written. I love the spiritual element he manages to incorporate in a subtle way and there is always mystery, twists and intrigue enabling a dialogue throughout with the reader. He is one of my all time favourite writers. He was also kind enough to write to me a couple of times to encourage me in my writing. I was stunned that someone who had sold over 450 million books took the time to do that.
One Door Away From Heaven by Dean Koontz
See above.
The Lord of The Rings by J. R. R. Tolkien
My brother bought me a copy when I was 13 and it helped me through my teenage years. I must have read it about three times, escaping to Middle Earth and journeying with 'the nine' through thick and thin. I loved that Aragorn treated all of his companions equally and never put on airs and graces, even though he knew he was destined for greatness.
Slaughterhouse Five by Kurt Vonnegut
This book is about a man becoming 'unstuck' in time and moving around events in his life in no particular order. Aliens are involved. It is surreal, moving and funny.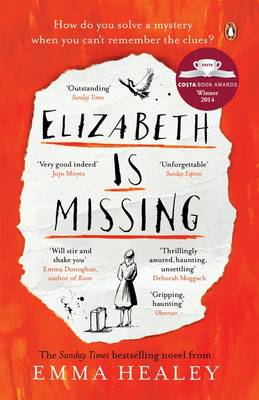 Elizabeth is Missing by Emma Healey
I was stunned to find that the author of this book is in her thirties, as she gets so believably inside the head of an eighty-something narrator suffering from dementia. I know these things as my own mum is very forgetful now. It is part mystery, part commentary on life as an old person. It is beautifully written too.
The Unlikely Pilgrimage of Harold Fry by Rachel Joyce
The beautiful writing is at the centre of this one, and the ending of course. I wasn't expecting the twist. It's about a lovely and unexpected gentle journey of an elderly man and how he interacts with the lives of others he meets on the way.
Of Mice And Men by John Steinbeck
I read this wonderful story when I was at school and was questioned on it as part of the English Lit exam as so many still are today. That is testament to the huge talent of Steinbeck and the ability of his words to impact on the emotions. It moved me to tears when I was fifteen and it did the same a few years ago when I re-read it. I have read two others of his, East of Eden and The Grapes of Wrath and his powers of description put you immediately in the scene. His social analysis of America years ago is still relevant today. Stunning.
Amanda James's latest novel, Summer in Tintagel was published on 14 July 2016 by Urbane Publications.
We all have secrets……
Ambitious journalist Rosa Fernley has been asked to fulfil her grandmother Jocelyn's dying wish. Jocelyn has also passed on a secret – in the summer of 1968, fleeing from the terror of a bullying husband, she visited the mysterious Tintagel Castle. Jocelyn wasn't seeking love, but she found it on the rugged clifftops in the shape of Jory, a local man as enigmatic and alluring as the region itself. But she was already married, and knew her husband would never let her find happiness and peace in Jory's arms.
Now as her days are nearing their end, she begs Rosa to go back to Tintagel, but is unwilling, or unable, to tell her why. Rosa is reluctant – she has a job in London, a deadline that won't wait and flights of fancy are just not in her nature. Nevertheless, she realises it might be the last thing she will do for her beloved grandmother and agrees to go.
Once in Tintagel, Rosa is challenged to confront secrets of her own, as shocking events threaten to change everything she has ever believed about herself and her family. She also meets a guide to the castle, Talan, a man who bears a striking resemblance to Jory.
Will the past remain cloaked in tragedy, sadness and the pain of unrequited love? Or can Rosa find the courage and strength to embrace the secrets of the past, and give hope to the future?
Blog: mandykjameswrites