Thank you for having me, Ruby. I love being asked about favourite books – I have so many of them! I felt I had to impose some sort of limits on the choosing or it would be far too difficult, so I decided to pick ten of the best books I've read in the past 2 years.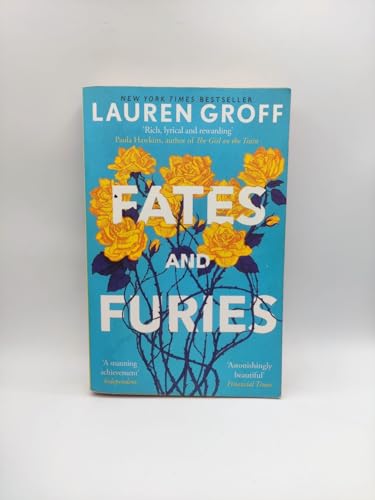 Fates and Furies by Lauren Groff
This examination of a marriage is a real tour de force. Written in two parts, Fates and Furies gives readers a 360˚ view of a relationship. The filling in of various gaps (that the reader may not have even noticed) in the second half of the novel is what really makes it an utter pleasure to read.
The Trouble with Goats and Sheep by Joanna Cannon
I so enjoyed this debut novel. Set in 1970s England, The Trouble With Goats and Sheep follows Grace and Tilly as they try to solve the mystery of neighbour Mrs Creasy's disappearance. I especially loved Cannon's fresh language and imagery.
A Spool of Blue Thread by Anne Tyler
'It was a beautiful, breezy, yellow-and-green afternoon…' This is how matriarch Abby Whitshank always begins the story of how she and Red fell in love. As a reader, you know there has to be more to the story than Abby reveals and, sure enough, Tyler takes Abby's account, and other family legends, and dissects/explodes them, exploring the difference between what occurred and what is remembered, and the gaps between what was said and what was meant. At the same time, Tyler also facilitates the creation of new family stories, and so the process begins again.
The Fair Fight by Anna Freeman
This historical novel about a female boxer is pacey, atmospheric and accomplished. It's packed full of passion and pugilism, and warmth and wit. I started reading it in a hotel room when I was away at a writing event. I read it until the early hours and then all the way home on the train. It would make a fantastic TV series (fingers crossed).
The Department of Speculation by Jenny Offill
Jenny Offill's novel about marriage, parenthood and the creeping doubts of middle age is told in fragmentary paragraphs and glorious prose. I read it on the train while quietly laughing to myself. There were so many moments when I wished I had a pen so I could underline particularly wise or prescient observations.
A Visit From the Goon Squad by Jennifer Egan
This fragmentary, non-linear novel works like a jigsaw puzzle, and while there were times when it got the better of me, there were also moments when it was deliciously surprising and original. I especially enjoyed the chapter told in Powerpoint – I thought it was one of the most extraordinary things I'd ever read.
We Don't Know What We're Doing by Thomas Morris
One of the best short story collections I've read this year. I believed in all of the characters, from the old men to the nursery nurses – they were beautifully drawn and the stories were excellent.
A Portable Shelter by Kirsty Logan
Another of the best collections I read this year. A Portable Shelter is set on the north coast of Scotland. These stories of domestic werewolves and child-eating witches, selkie fishermen and broken-toothed dragons aren't just skilfully told, they're also written with flare and imagination.
Love, An Index by Rebecca Lindenberg
These poems, about the disappearance of Lindenberg's partner while hiking in Japan, are beautifully written evocations of love, loss and the pain and pleasure of remembering. I particularly like the poem 'Losing Language: A Phrasebook' which offers translations of a variety of condolences.
All My Puny Sorrows by Miriam Toews
I loved this book. It's a comic novel about a sibling relationship and suicide – that's a hard sell, isn't it? But it's humane and beautiful, and it's as sad as it is funny. I've been recommending it to people ever since I read it approximately 18 months ago. My brother took his own life in May. It's a shock to wake up each morning and remember that he isn't here anymore. All My Puny Sorrows suddenly resonates in a different way: I plan to reread it in the coming months.
The Museum of You by Carys Bray is published on 16 June 2016.
Clover Quinn was a surprise. She used to imagine she was the good kind, now she's not sure. She'd like to ask Dad about it, but growing up in the saddest chapter of someone else's story is difficult. She tries not to skate on the thin ice of his memories.
Darren has done his best. He's studied his daughter like a seismologist on the lookout for waves and surrounded her with everything she might want – everything he can think of, at least – to be happy.
What Clover wants is answers. This summer, she thinks she can find them in the second bedroom, which is full of her mother's belongings. Volume isn't important, what she is looking for is essence; the undiluted bits: a collection of things that will tell the full story of her mother, her father and who she is going to be.
But what you find depends on what you're searching for.