Welcome to Isabel Costello, author of Paris Mon Amour.
Thanks for inviting me to take part in My Life in Books, Ruby! I'm sure many of your guests will feel the same mixture of pleasure and apprehension I did on having to select ten books from a lifetime of thousands.  It was an interesting process that made me single out those that have genuinely influenced my life from those I love (passionately, in some cases).  Every title on this list has played some part in me becoming a published author this month. Who knows, without them it might never have happened…
Almost Everything by Enid Blyton
Absolutely Everything by Agatha Christie
No, those are not titles you've never heard of; as a small child and young teenager I more or less devoured the entire output of these two often maligned authors.   Sure, I read many other books but it was Enid and Agatha who turned me into the compulsive reader I am today.  My mum, a teacher, had a downer on Enid Blyton for her supposedly 'limited vocabulary' but I can't say that I've ever been lost for words…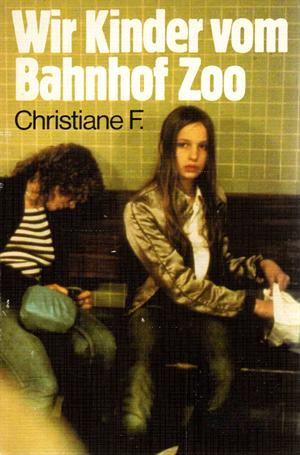 Wir Kinder vom Bahnhof Zoo (We Children From Bahnhof Zoo) by Christiane F. 
When the film adaptation of this book (based on interviews with journalists) came out in 1981, I was incredibly shocked by the true story of Christiane F, who at my age – just 14 – ended up selling herself to finance a heroin addiction in 1970's West Berlin.  This total stranger is the main reason I've never done recreational drugs – I've been terrified of them ever since.  The feeling was reinforced in my early twenties when I was kept high on pethidine for several hours following an operation. I could instantly understand how anyone can become an addict.
L'Etranger (The Stranger / The Outsider) by Albert Camus
As this list will reveal, I love reading in French. L'étranger is an extraordinary book which can be approached on many levels. By the time I encountered it at sixteen I had emphatically rejected my Catholic upbringing and this text ignited my interest in two related questions: the search for meaning and randomness. Three decades on, I am still given to pondering all this and for me, both real life and life as reflected in fiction are all about the questions. They're no substitute for a good story, but they add depth to one.  Nobody seems to have the answers!
Madame Bovary by Gustave Flaubert
Again, I first read Madame Bovary as a sixth former when much of it was inevitably lost on me.  It is the only novel I have read more than twice, resonating differently as I move through life. Emma is such a flawed and nuanced romantic/tragic heroine, in constant collision with the world around her.  Flaubert had a deep understanding of human nature and more than 150 years later there is still something recognisable in the dilemma of how to balance passion and intensity with the realities of everyday life, especially as a woman. There's a little of Emma in me and considerably more in my character Alexandra!
Les Fleurs Du Mal (The Flowers of Evil) by Charles Baudelaire
I vividly recall the wonder and disgust that accompanied my introduction to Baudelaire's notorious poetry collection and the play-off between beauty and evil (or ugliness, pain, etc).  His writing is dense with symbolism and cultural reference, yet vibrantly sensual, colourful and visual – unsurprisingly, for an art critic.  He too had interesting, enlightened and (at the time) outrageous things to say about women.  Baudelaire and his work appear in my novel in several guises, including an epigraph from his private journals, Mon cœur mis à nu (My heart laid bare).
The Line of Beauty by Alan Hollinghurst
This is about as close to perfection as it gets.  It's my era, and my own undergraduate days enabled me to relate to Nick Guest, albeit in a very small way – I have never mixed with Tories or consorted with the super-rich, nor would I want to. And indeed the 'otherness' of the privileged world portrayed was part of the novel's appeal in a 'look on in horror' kind of way.  The sex was pretty hot – and, to me, informative. In fact, my interest in the subject of sexuality extending beyond my experience dates back to this book. Although it feels wrong to mention as an afterthought, Hollinghurst's prose is exquisite.
The Clothes on Their Backs by Linda Grant
Another fine stylist, Linda Grant writes with depth, wit and subtlety and I have enjoyed all her novels immensely. Her gorgeous descriptions of clothes are hard to match. There is something uncompromising about the way she brings the world of her characters to life in every dimension – emotional, social, political –  setting the bar high for anyone who shares that aspiration.  Having always wanted to write, this is the novel that made me do it, leaving me in awe of the power of a good story.  Now I have a published novel of my own it means more to me than ever.
Olive Kitteridge by Elizabeth Strout
I love the USA and American fiction and Elizabeth Strout is a fabulous writer. Olive Kitteridge has particular significance for me.  Firstly, Olive is a middle-aged woman, and we don't get that perspective often enough. Secondly, despite a good heart, she is spiky, flawed, often unhappy and sometimes downright cruel.  I find the idea that women protagonists have to be 'warm' and 'nice' and that female readers only respond to those they would like to be friends with sexist and patronising but in a strange way it has given me something to kick against. This is good!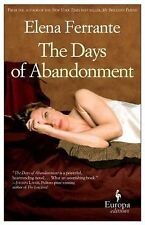 The Days of Abandonment by Elena Ferrante
I recently wrote about what Elena Ferrante's writing means to me on the Literary Sofa which was hard enough in a thousand words, so here I will limit myself to saying that this short novel, the first of hers I read, shook up my view of what fiction can be and what a rare and powerful force honesty is, and not just in books.  Elena Ferrante has made me feel angrier, braver and stronger in every area of my life. Since everything I've read of hers has coincided with the writing of Paris Mon Amour, I would describe her as an influence and that's not making a claim, it's simply a fact. This novel is translated by Ann Goldstein.
The foreign language texts in this selection exist in various translations.
Isabel Costello's debut novel Paris Mon Amour is released by Canelo on 13 June 2016 in digital and audiobook. She also hosts the Literary Sofa blog, where you can find her selection of recommended Summer Reads 2016.